Can this family survive the chaos when a TV decorator redesigns their home office?
The lumber had been standing in the corner for years.
Instead of storage, we had "floorage," with stacks of books and magazines here and there.
The toolbox belonged elsewhere, and so did the broken fax machine.
But the real 500-pound gorilla was the bright blue slide that sat in the middle of what was supposed to be our home office.
Even though we're a creative couple — my husband Matt is a graphics director at the Star-Telegram and I'm a writer — we're still somewhat challenged when it comes to home decor.
Then, last September, while looking for freelance jobs on craigslist.com, I spotted this ad: "Need fun and personable Dallas homeowners to participate in a room makeover show … WE PAY to have our celebrity designer, Jennifer Farrell, redesign your room!"
I fired off an e-mail:
My artist husband had a list of things he wanted to do by the time he turned 40: (1) run a marathon; (2) travel to Africa; (3) start painting.
Well, 40 came and went about a month ago, and so far there has been no marathon and no trip to the motherland.
Before he can get back into painting, however, his studio/office needs some help. It just screams, "If you can't paint a masterpiece, at least paint ME!" …
I pointed out that Matt shares that space with me and our 17-year-old son. Plus, our girls — ages 6, 4 and 1 — sometimes use the office as a playroom if I'm upstairs working.
Before we knew it, a talent scout was at our house. Then Jennifer herself came to size up the room. We were in.
But could A&E's Find & Design, which proposes to fix a room for under $1,100, be the answer to our home-office woes?
And more important, were my husband and I — and our four kids — really ready for reality TV?
Canton, here we come
Two months later, Matt and I were whisking around the Canton flea market on a golf cart, about an hour's drive east of our Fort Worth home, shopping on someone else's dime and surrounded by our new entourage — director, producer, makeup, sound and other crew. And, oh yeah, a camera followed us everywhere.
With 7,000 vendors, First Monday Trade Days is the largest and second-oldest flea market in the U.S., says marketing director Linda Hatfield. And it is partly why Find & Design has returned to the Metroplex to film more than 20 episodes.
"We need a location that has a big flea market with a great selection of items," explains executive producer Andy Berg. "And since it's hard to shoot garage sales and flea markets in the snow, a temperate climate helps."
As we drove along, passers-by pointed at us. (Maybe they thought we were Will and Jada Pinkett Smith, no?) Many recognized Jennifer from the show, so mostly they stopped to stare at her.
Director Mike Harrigan ran things, and he gently coaxed us as we haggled with one vendor after another.
We quickly learned that it takes a lot of time to shoot a 30-minute reality TV show.
If a helicopter flew overhead, for instance, we'd have to start over. When the batteries in my wireless microphone went out, we had to start over again.
We also realized that it's hard to ignore the camera, especially when it's right in your face. Matt and I were both busted for looking directly at the camera. (Oops!)
Plus, we had to keep in mind that we were wearing microphones most of the time. There's no telling what they heard. (Let's hope that spat about our washing machine doesn't make it onto the show!)
We ended up with a lot of stuff that fit Jennifer's vision for our new home office. We loved the raffia-looking lamps and the geometric art. And we couldn't wait to see how she planned to make desktops out of a pair of old doors.
However, we weren't all that keen on the rusty file cabinets, or the old diner chairs.
What was she thinking?
Chaos at home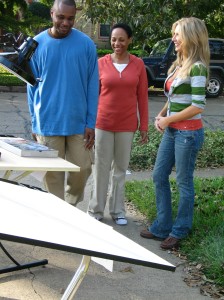 The following weekend, our entourage hit a few garage sales in Dallas.
There was a neighborhood sale on the M streets in Lower Greenville. We bought, among other things, three tables, an odd-looking rectangular structure, and a large silver vase that Jennifer said would become our trash can.
Back on the home front, there was controlled chaos: The furniture had to be moved. Some of it needed to be stained in our garage. The painters had to come. And we had separate DIY projects to do with Jennifer. I'd be making a desk organizer out of a cardboard box, fabric and spray adhesive. Matt would be gluing wood chips to plyboard to complete the mosaic on our new coffee table. There was also a full day of at-home scenes to shoot, some with and without our kids, who turned on the charm every time they thought the camera was focused on them. When they filmed the six of us playing basketball in our driveway, it felt sorta weird having the camera and crew there, too.
Having fun on cue takes acting skills, which we don't have. No matter how many times we told them not to, all three girls stared straight into the camera. (Not sure how they're gonna edit that out!) But at least the world will see my stepson throw down a nasty dunk over his dad, which he did on the first take.
And there was always a crowd. Some days, there would be 15 people in the house at once, doing everything from packing boxes to setting up lights to just hanging out on our couch.
The biggest challenge, however, was giving strangers full access to our home. We knew they'd be rifling through our stuff to determine what to use in the room, but that doesn't mean we were comfortable with it.
Nor were we completely OK with opening up our home to viewers. Would they see the crayon stains on the walls, or the spots on the carpet? We hurriedly touched up the paint and had the carpet cleaned before the camera crew even stepped foot in the house. We bought throw pillows for the couch and rearranged things around the home to try to make it presentable for TV. Turns out that stuff didn't matter, because nobody noticed.
During the re-do period, we were also busy carting kids off to school, cheer practice, Pee Wee football games and SAT tests. Plus, all four kids had birthdays during this time, I had a PTA fundraiser to coordinate and my husband had a huge project to finish at work.
Could we make it through?
The reveal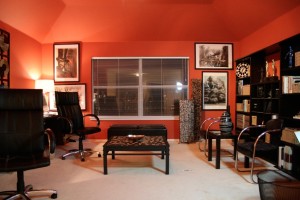 On the day of the reveal, the Wednesday after Thanksgiving, they asked us to leave the house by 9 a.m. and return around 5:30. Then they called and told us to stay away till 6:30. When we got home, we had to sit downstairs till 8:45 so they could put the finishing touches on the room. THEN we got to go upstairs to see the new room. Did I mention it was a school night?
Trucks were parked around the house and people were everywhere. The kids were cranky. Our neighbors wondered what all the fuss was about (we'd managed to keep it a secret up to that point).
I was nervously nauseated. My husband was beyond excited — he was pumped about his new workspace/studio.
When they finally told us to open our eyes, I was moved to the point of tears. And he may not admit it, but my husband also got choked up at what Jennifer and the crew had done to our room.
Gone were the slide, the lumber, the toolbox and the "floorage."
Our new office was now a mix of blacks, browns and beige with silver accents.
The three mismatched shelves had been stained a tobacco color and combined to make one big unit. The flea market art piece hung over our new desktops, which Jennifer had painted black.
A black storage ottoman housed magazines and other items we once stepped over.
Some of my husband's art, which he kept in a portfolio under our bed, was hung throughout the room in black frames.
The flea market file cabinets had a fresh coat of beige paint, and the diner chairs had been covered in a fabric to match our new modern decor.
And everything tied in perfectly with the wall color, which we call tomato basil.
Plus, there was a bonus: The bathroom nearby got a mini-makeover with new rugs, a shower curtain, candles and other accessories.
In the end, we enjoyed our reality TV experience. Despite the cameras. Despite the small army in our house. Despite the chaos. We'd do it again in a heartbeat.
So don't be surprised to see us again if there's ever a call for the world's worst playrooms.
This story was originally published in the Fort Worth Star-Telegram in 2007.