After losing her high-profile job and making a bold move to avoid cancer, René Syler adds author to her résumé and tells moms it's OK to be "good enough."
by Felicia D. Pinkney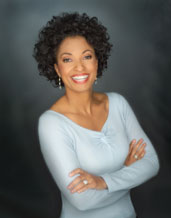 "BAH!"
That's what Olivia gets when she misbehaves: Ripping holes in a brand-new shirt. Throwing her mud-covered, 68-pound body all over people.
When she hears "BAH!," the yellow Lab knows she has done something of which her owner, René Syler, does not approve.
And after reading Syler's book, Good-Enough Mother, you get the feeling that the mother of two also says "BAH!" to a laundry list of other things: mom guilt, math, housekeeping, cooking, super-moms, even breast cancer.
Syler, 46, is a familiar face around North Texas: For nearly five years, she anchored the noon and 6 p.m. news at KTVT/Channel 11 in Fort Worth. She left in 2002 for brighter lights and a bigger city — New York — to co-anchor The Early Show, also on CBS.
But the trip hasn't always been smooth. In 2004, Syler was diagnosed with hyperplasia with atypia, a precancerous condition that made her a high-risk candidate for breast cancer — especially given that both her mother and father were breast cancer survivors.
Then, in November 2006, Syler was fired from The Early Show, reportedly because the program would be "going in a new direction." Five weeks after losing her job, Syler had an elective double mastectomy and was fitted with saline implants. Her breast cancer risk dropped from 40 percent to 2 percent, she says.
We caught up with her by phone from Westchester County in New York, where she lives with her husband, Buff Parham, a TV sales executive; 13-year-old daughter Casey and son Cole, 11.
First of all, how are you?
I am great! I feel good. I had my last surgery [a follow-up to the double mastectomy]. And I feel fantastic!
Your life really is an open book. In Good-Enough Mother, you talk about how messy your house is, money management, your kids, your husband, spirituality, breast cancer, the dog, Jordache jeans. … Is there anything you WON'T talk about?
There aren't a lot of secrets about my life, huh? We talk about it all. The reason I wrote the book, and the way I wrote it and the fact that I didn't hide anything is because I wanted people to know that, warts and wrinkles and all, I felt like I was a good-enough mother — a GEM — even if I didn't know math problems, I was a horrible housekeeper, and I am an absolutely awful cook. All of those things didn't keep me from believing that I still was a good mother and that I continue to give my children the things they really need, which is love and support.
What are your kids eating these days? Are they still munching on chicken nuggets and Pop-Tarts?
Of course they are! We are chicken nugget connoisseurs in this house. We know who makes the best ones.
I'm sure you'll be an inspiration to other mothers out there who are bad cooks, or who don't really keep house.
I hope so. I guess my goal was to get women to concentrate on what was important, and the stuff that really mattered. Society puts [rules] on you, and it's stuff that [doesn't] necessarily matter.
What inspired you to write the book?
The idea for the book came to me when I was talking with Ginger Allen, who's a reporter at CBS 11 [in Dallas]. Ginger had these two beautiful children, and she got stuck working overtime at the station on Halloween. She ended up just really beating herself up over it.She said to me, "You seem like you have the whole work/family thing figured out." And I thought, "She must be crazy; she could not be talking about me."I said, "Ginger, listen: The key is, really, you love your kids and they know you love 'em, but sometimes you have to be good enough."The idea [behind the book] is not so that you could be a slacker mom. You aspire to perfection but know that nobody's perfect — and you need to be OK with yourself when you fail.
Speaking of being perfect, in the book you're so diplomatic in telling the "Dreaded Super-Moms" to get a life. Have you heard from any of the super-moms?
My husband said, "You're never gonna get invited to anything!" [About the Super-Moms], I didn't write about any one person. It's a composite of a bunch of people that I see and the antics and characteristics that I see in many people.I felt like I wanted women to just take a breather and say, "What I'm doing is good enough. The kids are growing, they're strong, they're happy, they're healthy. I must be doing something right."
In the book, you come across as a really fun mom. What do your kids think?
Casey said to me the other day, "Mom, you're not like the other moms." And immediately my heart kinda sank, because I was like, "Uh-oh. That could go in any number of directions."And she said, "No, you're like a FUN mom." And I thought, "OK! There you go! I'm a fun mom!" And I really am kind of a fun mom. I'm one of those moms who gets down on the floor with them, [to] eat pizza, put my feet up on the table and watch SpongeBob. I'm married to a "rules" guy. He's really all about the rules. I wrote in the book about when we were going to the movies and Cole wanted to wear my jacket. And my husband wanted Cole to have his own coat. And I said, "What difference does it make?" That's the kind of parent I am. I tend to ask the question, "What would be the harm in [that]?" I'm definitely more of a permissive parent than my husband is.
Now that you're also an author, are you away from home more or less? I'm there for them more. I'm here in the morning, which I wasn't before. Since I lost my job on The Early Show, I have been able to concentrate more on the book. It's funny, because my kids will come in and go, "Mom, what are you doing? You don't have a job." Because I'm so busy writing, they don't quite get it. And I'm like, "Oh, Mommy's got a big job, an even bigger job than I had."
In the book, you say, "Earning a living isn't just about feeding my family; it's about feeding my heart, brain and soul." What's your take on the great divide between working moms and stay-at-home moms?
I hate that there's that unspoken competition where, I guess, the stay-at-home moms feel the working moms are neglecting their children, and the working moms feel the stay-at-home moms are neglecting themselves. If you're a stay-at-home mom, you ARE a working mom. When you are a mother, you are the one breaking up fights over who had the last Pop-Tart or trying to figure out who drank straight from the milk carton and put it back in the refrigerator empty. Being a mom is a hard job. It's also incredibly rewarding. I only know from my perspective that I need to work. I have to be all that I can be for the people who love me — my children and my husband.I say in my book that just because these people all came along doesn't mean that my dreams and goals died.
What has the response been like since you were on The Oprah Winfrey Show?
Everybody felt like it was a really wonderful opportunity to talk about the surgery and the thought process. Even when I was on The Early Show and at CBS 11, I've always been about educating women with regard to breast issues, breast cancer and their breast health. I didn't feel exposed in doing it for [the Oprah] show.
So what was the reaction to Oprah touching your breasts?
The thing that makes Oprah Oprah is that she always asks the questions that people want to know. And I'm sure people were like, "Well, I wonder what they feel like?" So I said, "Sure, go ahead."
You said you won't need any more mammograms, and that you don't have to wear a bra ever again. How else have things changed for you and your family since you've had the surgery?
Doesn't that sound shallow? I feel lighter, maybe because I didn't understand how heavy this was weighing on me, the thought of breast cancer. In terms of how I viewed my life, I feel like there was a "before the surgery" and "after the surgery." Before the surgery, I felt like I was playing defense and waiting for the other shoe to drop. And now I feel like I took a proactive stand. And it wasn't a decision I made overnight. It was well-thought-out, but I feel better after.People ask me if I have any regrets. Sometimes, the only regret I have is that I didn't do it sooner. I went through a lot leading up to that.
It takes a lot of inner strength to endure something like that. What is your source of inner strength?
Honestly, I don't know how I got through that time. I had a lot of friends, a lot of family and a lot of faith that I was gonna be OK. This was without a doubt the hardest time in my life. I look back on it now and I don't know how I made it through that. I did it just one day at a time. One day at a time was all I could handle. And it was difficult. I once heard someone say in a speech, "Adversity is the breakfast of champions." After this, I can take on the world.
You have a lot of fans in the Metroplex, and you built your dream house in Southlake. Would you consider moving back or working in this area again?
Now we live in a house that's 103 years old. We're in the middle of renovating it, and it is a pain in the butt. I usually tell people I survived the renovation of my body and my house. I never say never. But my children are getting to the age where it's gonna be more difficult to keep uprooting them. We're probably going to stay here in the Northeast. But I get back to Dallas-Fort Worth a lot. My sister lives in Mansfield and my mother lives in Fort Worth. I get back quite frequently. My heart is still in Texas, even if my feet are not.
This story was originally published in the Fort Worth Star-Telegram in 2007. Image courtesy of René Syler.